As I told you in last week's post, I was accepted to VIA Rail's Artists on board Program for a memorable journey starting November 1, 2016. I was the performer on "The Canadian," an iconic train that winds through the wilderness of five provinces: from Ontario to British Columbia and back again. This train goes through Winnipeg, Edmonton, Jasper and Kamloops, but other than those cities, the scenery is mostly of remote landscapes: far from highways and reminders of daily life.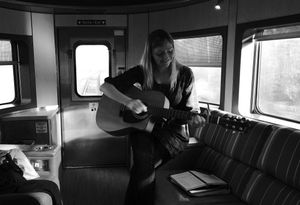 While aboard The Canadian, I performed two-to-three shows a day, for about 45 minutes each. I played and sang for both economy class passengers and sleeper class passengers in their dome cars. During train stops in Winnipeg and Jasper, I did shows in the hall of the stations. When I first started performing, I did longer sets (over an hour) but I quickly realized that if I continued at this rate, I'd be hoarse by Saskatchewan. Singing over the hum of the engines, the clinking and clacking of the steel wheels and the general dry air inside the cars required some adherence to vocal hygiene rules. (Such as shortening sets.)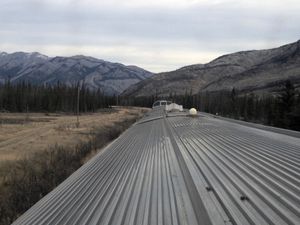 After my performances, I'd put down my guitar and people would tell me their stories. An older American gentleman told me that on his first visit to Canada as a teenager, he tried to impress Canadian girls by telling them he was a Californian surfer and nearly got himself into a skiff with their boyfriends. Another American, a young man, was on the train with his newly-wed wife on their honeymoon. They added to my music session by singing several Stan Rogers songs by memory. A shepherd from Manitoba told me he started a sheep farm because his wife wanted better quality wool for knitting, and now he has over 600 sheep.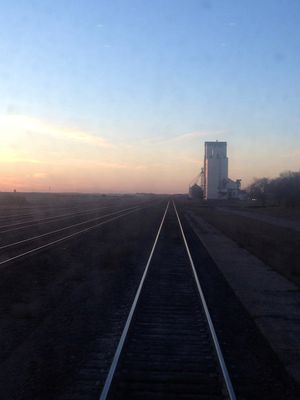 One passenger, who went on to become a friend, told me she was on her way to Victoria after being in Toronto. Her father had recently passed away and she'd been cleaning out his earthly belongings in Ontario. The woman carried a model boat with her that her dad had spent years building. He had told her that when he died, he would be sailing the Northern Lights in the sky. In fact, several passengers said they saw the Aurora Borealis as we passed through the night somewhere in Manitoba. Perhaps he was indeed sailing up there. The woman also told me that my song, Dig a Hole, resonated with her as it brought her father's presence closer to her on the train. 
Dig a Hole is a song about my grandfather providing for his family during the Second World War in Europe: 
His wife watched from the rubble of their house 
she hid their secret and blew the candles out, 
recalled his promise to provide 
to protect their fortune for their only child. 
She said, dig a hole, dig it deep
and save what you can 
we're all living in fear and suspicion 
Dig a hole, dig it deep 
and save what you can 
'cause better times are coming, better times are coming back.   
Sometimes I wonder if my songs serve any purpose other than just giving me a creative outlet. Then, conversations like the one above happen and I'm reminded that you never know what a song can do for even just a moment in someone's life. A song seems like such a simple thing, a string of notes and words, but it's a way to keep people close to us no matter where they are. A song is a way to share how we've been impacted by them and what they mean to us. Being on the train reminded me of this: my music is rooted in people's stories… and people want to share their stories. The railway is a great venue for this. I shared my stories through music while others shared theirs through a simple conversation while we all rattled through the Canadian wilderness.  

There's still more train stories to come.  I'd be honoured if you'd sign up for my mailing list to receive upcoming news about the album, which will contain the songs mentioned in these posts.  Got ideas, comments or questions? Post 'em, or contact me...I'd love to hear your stories, too.