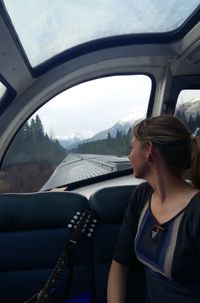 During my time on the train this past November as VIA Rail's Artists on board Program, one fellow passenger said to me, "This is just what the doctor ordered. There's medicine on these iron tracks." Perhaps he was referring to the signature chocolate-caramel torte that was served at each dinner, but I think he meant that somewhere in the midst of the changing scenery, the rattling of the wheels and the miles of track and the sharing of tales, travelling on the railway is simply good for the soul.   
  A VIA crew member repeated the sentiment. Almost every evening, he brought out his old-fashioned typewriter, fed a piece of paper into it, and started clicking away on the keys. He was documenting his thoughts and events of the day. He let me read several of his pages and his writing conveyed that he loved his work on the train. It was a haven from a 9-5 type of job.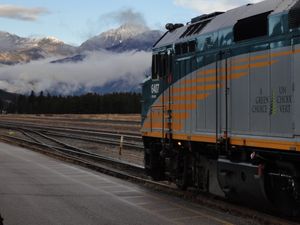 But for every nostalgic and heart-warming train story, I'm sure there are an equal number of sad and infamous train tales. Take Bill Miner, for instance. He was a notorious bandit, who started his villainous career robbing stagecoaches before moving onto trains in the early 1900's. (Trains at that time transported gold from mines.) Bill succeeded in robbing a Canadian Pacific  train near Merritt, B.C. in 1904 in a very bold way. He hopped onto the train at a night time stop, climbing over the coal tender and holding the engineers at gunpoint. Bill and his accomplices then blasted open the express car with dynamite.   
Bang!!!  

He had the goods.   
  When Bill finished looting, he apologized to the crew for causing a delay. Then, he ran off into the woods. Bill changed his identity for a while, posing as a genteel rich man in Princeton, B.C. until his spoils ran out. The train robber was charismatic and persuasive and used these abilities to charm friends into becoming accomplices for the next train robbery.  As well, Bill was famous for escaping prison several times.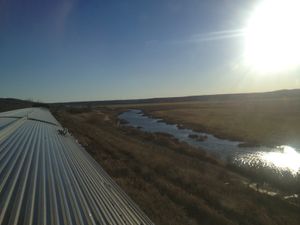 Songs about scoundrels and villains are popular themes in folk music and so there has already been many songs written about "Railroad Bill". I hadn't tried my hand at capturing him and I gave it my best shot in preparation for the train trip. The result is my song Old Bill Miner:  
Old Bill Miner's got an agile mind,   
grizzled face, steel blue eyes  
he held up the train with his usual charm  
and never killed anyone.  
Old Bill Miner, gun in each hand,   
pointed straight at the train's brakeman  
put dynamite to the express car door,   
on his quest for some gold dust and coin and something more...  
Old Bill Miner told the driver "Good night boys!"  
Old Bill Miner, told the driver "No prison walls can hold me in!"  
I played Old Bill Miner with some apprehension to passengers as it's a new song for me and received a high compliment when one listener said to me, "I've got that Old Bill song in my head!" What's your opinion? Should this song be included in my upcoming album? Let me know by commenting on my blog. You can also find me on Instagram at dfolkmusic.