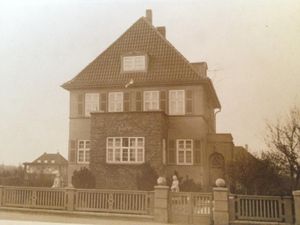 I'm recording an album in February 2017!  
The story behind the album started two generations ago. During World War 2 in Hamburg, my grandmother rescued her piano from her burning house, which had been hit by a bomb.  This was the piano that crossed the ocean on a container ship to Canada when my mother married.  Years later, I learnt music on that same piano.  I often wonder:  If my grandmother hadn't rescued that piano, would I be playing music at all?  Her actions, two generations later,  left their mark on the songs that I've written for this album.   
The songs are based on true family stories. It's about where we came from and those who raised us.   
Many of you have helped me in some way to get to this point. Through advice, support, teaching me more about music, helping me edit, and listening to my ideas and songs. Thank you! 
I'm working with Producer Andrew Collins in Toronto, and can't wait to see these homespun stories come to life in song.  


In the upcoming months, I'll be posting the stories behind the songs, behind-the-scenes photos and videos and whatever else related to the album release. I'd be honoured if you'd follow along (social media links below), but you are certainly under no pressure or obligation to do so!  There's also an email list sign up on my homepage.    
Regardless, I hope you're well!      
And I'd love to hear from you. 
Doris

Instagram:  https://www.instagram.com/dfolkmusic/
Facebook: https://www.facebook.com/Doris-Folkens-Music-341399892889505/