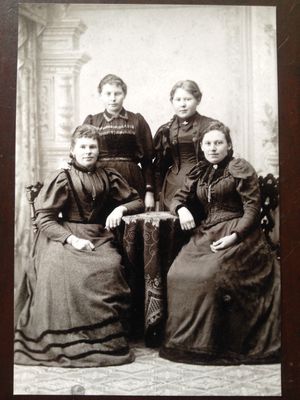 Seated on the left in the photo is my great-grandmother Bertha. I only know her from a handful of photographs and the stories that were passed down. Here's one: 
Bertha was born into a hard-working farming family. She had three sisters- Emma, Minna and Rosa. Upon coming of age, one of the girls was expected to take over the farm and its operations in the absence of a male heir. 
It was a prime piece of land- with livestock and rich soil, situated on a calm lake. 
But there was one big problem. 
The farmland was believed by the four sisters to be "cursed". This is because lighting struck the barn and burnt it to the ground twice during their childhood. 
Bertha decided she didn't want to inherit this cursed land. She needed a scheme to avoid it. The simplest way was to marry someone from another town and move away. 
Her scheme was successful.  At 22, she married Heinrich, an Innkeeper from a neighbouring village. The farm was eventually sold.  I've heard its a popular RV park these days.
Have a listen to the song (and the album) here:  https://dorisfolkens.bandcamp.com/album/doris-folkens
The album is available on Spotify, iTunes, Apple Music, Bandcamp, CDBaby and Google Play.