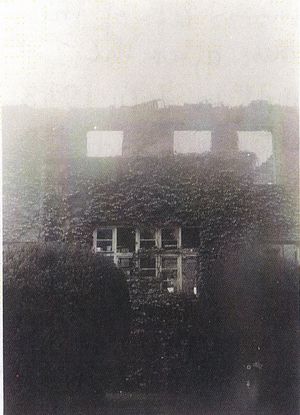 From what I've heard about him, my grandfather was a kind, conscientious and resourceful person. I imagine these traits were the result of hardship, as he lived through world circumstances which dictated that his life would not be easy. 
He was a soldier in the First World War. Having survived, he started to build up his life. He worked hard, married my grandmother, built a home in Hamburg, and had one child. Life briefly had a positive outlook, but, shortly afterwards, a second world war in Germany had broken out. 
Early in WW2, my grandfather's motor car was confiscated by German government officials, who needed it for their troops. First they took only the tires. Later in the war, they were desperate for more vehicles and came back to forcefully take the whole car.  
My grandfather needed to find a way to hide items of value, which could be sold or used to barter with when food and supplies were scarce. Printed money could be useless- he had experienced hyperinflation of the Deutschmark after WW1. He still had cigar boxes filled with $1000 paper bills that were worthless. 
So, he built a wooden box. He filled it with anything in his household that contained silver and gold, such as candle holders, cutlery, cuff links. Then, he dug a hole in the backyard and buried the box in the ground. There, it stayed hidden over the course of the war, and was safe during the destructive air raid attacks on Hamburg. Their bombed house is seen in the photo. 
My grandfather kept a close eye on his hideout. Once, he found that the ground had been disturbed. Looters had found the box. They had taken a few things in haste, but, for the most part, the family "treasures" survived. 
You can download the album, and hear his story in my song "Dig A Hole" here.