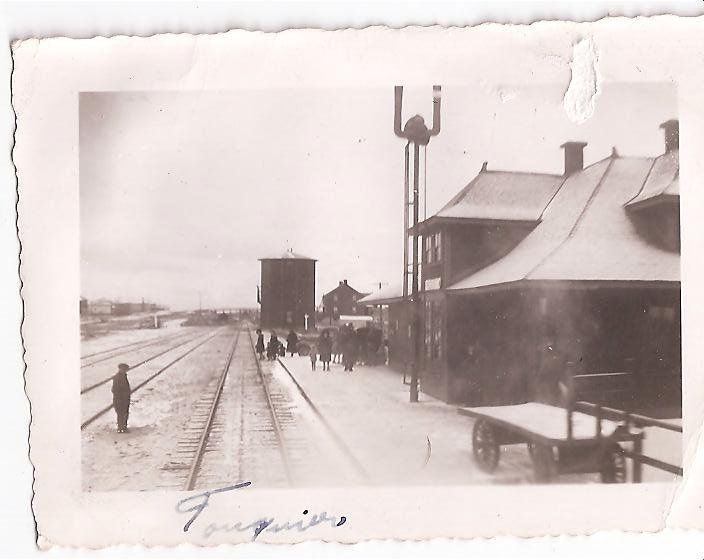 Straight to the point- this song is about an exhumation. But instead of being morbid, this is a true and heartwarming story about family loyalty. 
It happened sometime in the 1960's in a small northern Ontario town (the local train station is depicted in the photo above).  A local family didn't feel at peace about the burial site of their deceased relative. It came to the point where two brothers, along with their father, felt compelled to do something about it. They discussed it late one night over drinks in the kitchen. Their conversation was overheard by a young niece who recounted the story to me nearly 60 years after it happened. 
Their beloved relative (a great-aunt), had died thirty years prior and was buried alone in a corner of the graveyard. Only a simple, small cross marked her resting place. In the years since her death, the family had purchased a burial plot centrally in the cemetery. The family decided that the deceased aunt should no longer be alone. They wanted to exhume her and move the remains to the family plot.
Of course, this was illegal.  But, they got away with it with minimal planning. One brother worked for the town and had access to heavy digging equipment. The other family member was a volunteer with the cemetery landscaping crew and had previous grave-digging experience. 
They proceeded in the darkness, and unearthed their aunt's coffin. Next, they dug a new grave in the family plot, carried the coffin over and lowered it in. They covered it all up, and didn't tell anyone. They didn't mark her new gravesite and left the initial plot as it was.
It was a success. Not until many, many years later did a family member confess what took place that night.
This song was the winner of the 2017 Folk Music Ontario "Songs from the Heart-Humorous" Award.  You can hear the album version of "Lonesome in the Grave No More " here.